St Dwynwen's day or Dydd Santes Dwynwen as we call it is pretty much like Valentine's day but on 25th January.
WHO ON EARTH IS ST DWYNWEN?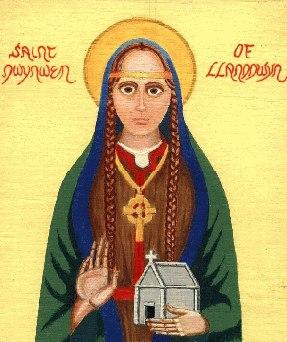 It's the usual love story, hot sexy princess falls in love with a guy called Maelon. But alas her father (who has about 50 kids so guess he's been busy) has arranged her marriage to another guy. A little pissed off she begged god for help. He sent an angel to wipe her memory and turned Maelon into a block of ice. She begged not to have her memory wiped and for Maelon to be defrosted. In exchange she became a nun and prayed for lovers to have better luck than her.
HOW IS IT CELEBRATED?
Same way as Valentine's day really. You exchange gifts, go for romantic meal, get cards or a wooden love spoon or just cwtch on the sofa and force him to watch chickflicks.
DO YOU STILL CELEBRATE Valentine's DAY?
Yes we do. St Dwynwen's day is just another "love day" basically Valentine's day 2. If the queen can have 2 birthdays why can't we have 2 Valentine's days?
ARE THERE ANY PERKS?
Well for a start your more likely to find the restaurants aren't all booked up. Neither has it been overly commercialised like Valentine's day has. You won't see mainstream shops packed with tatty crap. It's also interesting to see guys forget about it much to the displeasure of their partner, so it acts as a gentle reminder that Valentine's day is around the corner. Watching recent immigrants, from across the English border, ignorant of our ways squirm as their welsh girlfriends question why they never got a card or flowers is priceless.