I love cheesy teen movies for the same reason I love YA novels. (Even though YA adult novels tend to be a little formulaic and cheesy) I think they remind me of my younger self. I don't think The Princess Bride counts as cheesy or a teen movie, but I'm putting it in here anyways. Every time I have a girls day with my mom and sisters we all dress in cute outfits, go shopping, and go out to get sushi at our sushi restaurant. After that, we come back to my parents house, we make dinner, and watch a cheesy movie like one of these. This is all while discussing everything from our careers, continuing our education, boys, the weather, tv shows, trips we want to take, etc.
Princess Diaries 1 & 2
I identify with Mia on so many levels. And more than just our crazy hair.
A Cinderella story
That dress is gorgeous. I don't understand how he didn't recognize her. She doesn't look any different with the exception of her mask. Also, I love the car she drives.
Ella Enchanted
I'm a little impartial to teen movies with Anne Hathaway in them.
13 going on 30
I love this movie and it's perfect for girls night.
Mean Girls
"If you're from Africa, why are you white?" still makes me laugh.
Grease
Danny and Sandy forever. My sister loved this movie when she was in high school. I remember watching it with her and I still love it.

Easy A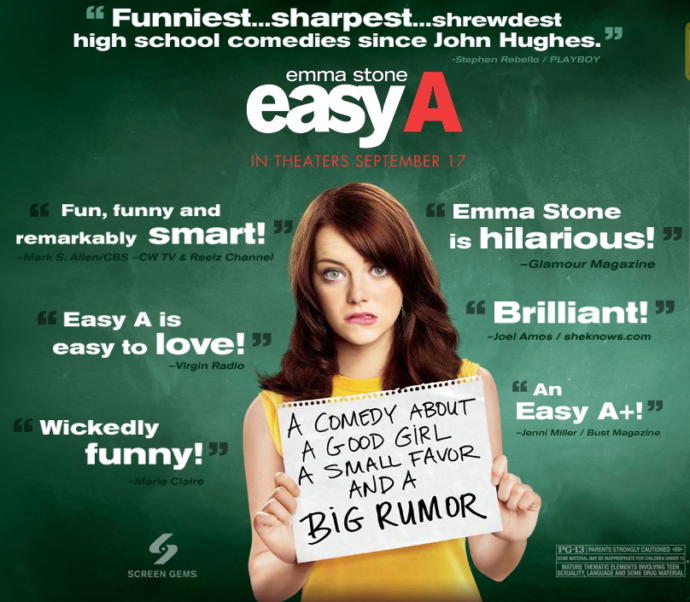 This movie still makes me laugh.

She's all that
I thought the main girl was pretty before her makeover. Also I liked the painting she did for her mom.
Princess Bride
Still my favorite movie ever!
She's the man
Good to watch for Channing Tatum or if you're trying to remember what Amanda Bynes once was.