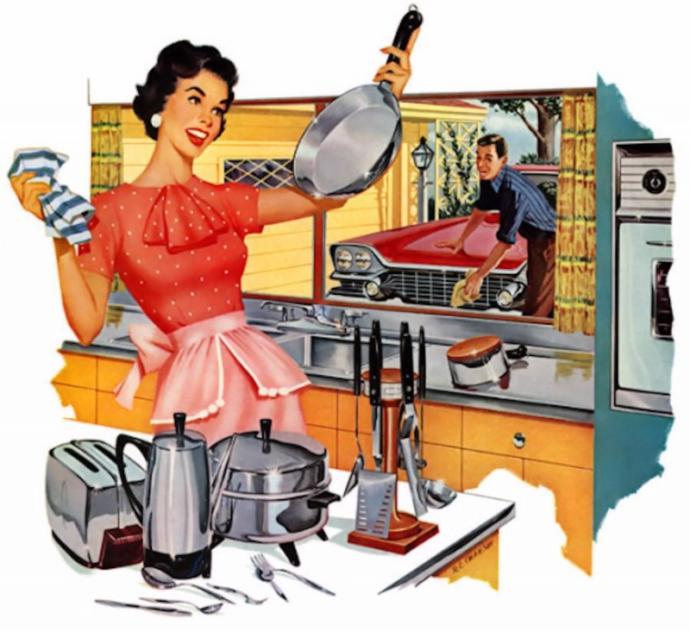 Pure curiosity, and I'm just looking for your personal opinion.
So really the woman would do all the cooking, cleaning raising the kids, and the household chores. The man works and brings home the money but is still the 'protector' of the family. That also means men would have to pay for dates and pay for their wives upkeep like hair, nails, clothes, etc. since she wouldn't work or, if she did, it would be a more "feminine" job with no authority like a secretary or something and she wouldn't have a lot of money. If you want to lump teacher and nurse in there, you can.
I know financially it would be difficult in 2018, but I'm only talking in terms of being with someone, not necessarily being able to afford a luxurious lifestyle. Being honest, most families with traditional gender roles in the 40's and 50's didn't live a luxurious lifestyle, either, so that's not really anything new.
But do you think dating would easier?
Yes, it would be easier but only for the men.

Yes, it would be easier but only for the women.

No, it would not make dating easier.
Select age and gender to cast your vote:
Updates:
I think some people are getting dating mixed up with whether or not you'd be happy. I'm not asking if it would make you happy. I'm asking would it be easier to find someone to date and marry.
---
Most Helpful Guys
It would make dating so much better, as well as everything beyond.

I am old fashioned in my thinking. I think life was better when men and women were practicing their gender specific roles. We are different and for good reason. There is nothing inferior with traditional roles and their respect to ether gender. For instance, a man opening a door for his woman, picking her up, asking her to marry him, calling on her to ask her out, accepting her for who she is, appreciating her body in a natural state, and actually making love to her instead of all the violent and unnatural sexual ways now days. A woman on the other hand is tender and nurturing by her very nature. She is kind. When she feels ready (not being pushed) she wants children. Gender roles are still important even if pop culture and stupid laws reject such things, I will always feel and act traditionally.


More women would want families and not careers so YES it would be easier for MEN. However... men still have to court the woman and in 2018 they are pretty clueless on how that is done. The below statement was written by a male guest writer in SEVENTEEN MAGAZINE in 1959.

"Growing up has taught me one thing: there is an infinite number of ways by which a boy can meet a girl. I've also found that once he meets a girl -- and becomes interested in her -- a boy must indulge in a sly, artful practice called pursuit."

Men back in the day were good at their role and women were even better. That was then this is now. The roles wouldn't survive in 2018.
Most Helpful Girls
I gather it would be easier because the framework is set. The roles are set. Your part and the expectations of you is set. I'm unsure if it would be "right" though, because it really doesn't fit everyone.

I like parts of the traditional gender roles; I love the way they moved within the relationship, but I still want the freedom to choose. And I've never been a housewife; I've worked since I was in school and had my children in awesome daycare from they were 2.
If I had to choose, I don't think I would choose to be home, anyway, even in a traditional gender role scenario.

I like the traditional way in the sense that it speaks to our genetic and fundamental strengths; any change in this, any movement, will not change this. We're different and it's ok.
Yeah I think it would be easier that way everyone was on the same page. If a guy is gonna take me on a date I expect him to pay, open my door, pull my chair out etc. Because that is how he should have been raised - as a gentlemen. Before this whole feminist shit started men still did that because women wanted equality (which we have if you aren't blind thanks to the women of the past not 'feminists'.) Because they wanted to start spreading that independent women shit and say you wanted to pay for the bill or half dont open my door because your dominating me. Well girl some girls like to be dominated!! Lol messed it up for the rest of us. Now this is turning into a rant sorry. Anyways the point is yeah it should go back to that but modernized slightly. The man should be the man of the house, should have the respect of that. doesn't matter if I made more or he made more it would go into each other, and when kids are involved I would take care of them because I am the mom. End of story. I am gonna treat my man like a king and he is gonna treat me like a queen nothing traditional or whatever I was just raised to treat a man like that. You cook, (he can too but most if you are not working and he is when he gets home the house should be clean and food ready or almost done etc) you pamper your man because that is what he deserves because I know damn well the man I am gonna be with is gonna give it back.