1. G@G News
Did you know we announce updates, changes, and news all the time? You can check the G@G News box (top right corner of most G@G pages) to see what's going on in the G@G world! Using the arrows (top right of the box), you can see up to 10 different announcements at any given time!
2. Privacy Settings
Did you know that you don't have to receive messages from anyone? By going to Settings, you can activate the setting "Allow messages only from people I follow" (remembering to click Save).
You can also make your profile private, keeping the activity on your profile completely hidden from all G@Gers you don't Follow. Having a private profile will also ensure no users can follow you without your permission. You will receive a follow request which you can then accept or decline.
You can also activate the setting "Hide activity of users I blocked", which will hide all Blocked G@Ger activity on the Live Feed and Question List pages.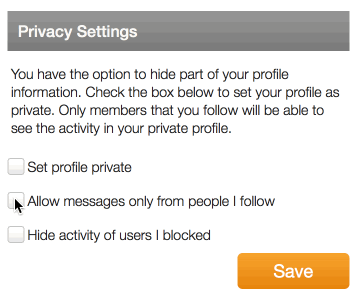 3. Blocking vs. Following
Blocking Topics = If you do not want to see any activity for Questions in certain Topics, you can block the Topic. For example, if you don't want to see any "Rate me" Questions in the Live Feed, you can block the How Do I Look? Topic and you'll no longer see any activity for that Topic in the Live Feed.
Blocking G@Gers = If you don't want to interact with a G@Ger, you can Block them. This prevents them from posting on your non-anonymous posts, prevents them from voting on your non-anonymous opinions, prevents them from sending you private messages, and prevents them from Following you. Please remember that if you'd been exchanging messages before, delete the conversation first, then Block them. Also remember that you are Blocked back, so you won't be able to post or message them either.
Following Topics = If you want to see all activity for certain Topics in the Live Feed, you can Follow the Topic from the Topic List page.
Following G@Gers = If you like what a G@Ger has to say, they give good advice or make you laugh, you can Follow them, making sure you never miss a thing in the Live Feed.
4. The Live Feed
The Live Feed is a tool that displays G@Ger activity (except G@Gers/Topics you've Blocked) in real time. To make it even easier to see what you want to see, you can filter the Live Feed by gender, G@Gers you Follow, and Topics you follow! Click the "Remember" button to save those settings so it will show the content you want to see every time you visit the Live Feed.
5. Earning Xper Points
You all know that you can earn Xper points by posting and being awarded Most Helpful Opinion, but did you know you can also earn extra Xper for sharing on Featured Questions, or sharing about G@G from your social media accounts? Sharing your Opinion on a Featured Question gives you an extra Xper point, on top of the Xper point you earned for sharing at all. If you're the first Opinion of your gender, you'll earn yet another (3 points total).
6. Writing myTakes
A myTake is your chance to express your personal and most candid opinion(s) on just about any subject under the sun. Just go to Post at the top of the screen and hit "Share myTake." You'll be taken to a separate page (mind the purple hints that pop up!) where you can start writing. Remember to select the proper category for your piece, and try to include media (pics, vids, GIFs, etc.) to spice up the presentation. Provided it doesn't violate one of our rules or policies - we won't post offensive, antagonistic, or explicit material, for instance - we'll probably approve it and let you start gathering comments. :)
For it to be Promoted and possibly Featured, you need to write a solid Take. For a good idea of what we want to see, visit the Promoted myTakes list and the main page. Remember that Takes, especially those we want to Promote/Feature, may require some light editing, which means fixing spacing issues, spelling, grammar and punctuation, tweaking the title, adding media, etc. We will frequently contact the author with a note if we make these changes, and we're always willing to work with the writer if they don't like a new headline or image. We're doing this for you, by the way, so your great Take can spread far and wide!
To learn more, check out the site FAQ and How to Write a Featured myTake.
7. Editors: Who Are They and What Do They Do?
Firstly, remember to check the helpful GaG FAQ. Secondly, as a clarification, Editors are not the ones editing, approving, moderating, Promoting/Featuring, etc. That's the staff and Moderators (see below). Editors are simply frequent myTake posters who have proven they can produce good quality content on a relatively consistent basis. Their Takes are automatically Promoted, though not automatically Featured. Editors can also edit their own Takes if they wish to make changes, while regular users cannot.
Anybody can earn the Editor tag. Just create great Takes and earn the attention of our staff!
8. Reporting a Post
On all post types (except Promoted myTakes), you'll see 3 vertical dots in the top right corner of the post. Clicking these dots will bring up the option to Report the post. Clicking "Report" will then bring up a box with the various Report reasons. If you feel a post violates our posting guidelines, please choose the correct Report reason from the menu and click Report.
If you find a G@Ger consistently breaking the posting rules (harassing others, posting Spam, etc.), you can Report that G@Ger from their profile page, clicking Report. Please remember that Reporting a post/G@Ger does not guarantee removal. After the report is made, admins will review the post/G@Ger within 24 hours and decide what steps need to be taken.
9. Why are some posts removed?
G@G reserves the right to edit content to ensure quality and to remove content that is inappropriate or abusive. If you do have something removed, you'll receive a message explaining what posting guideline you violated. Please remember not to post about your post removals or warnings, simply come to us with those questions as our community won't have the answers.

To ensure the site is always full of interesting Questions and great advice, we do not remove posts per user request. To avoid posting regrets, please carefully consider and proofread your posts before clicking Submit.
However...
You can update your Question using the Update link.

You can also Disavow the Question, which makes the Question Anonymous and you'll no longer receive notifications.

To Disavow, hover your mouse over the broken link symbol next to the question title on your question list page and click Yes.

Please remember, you cannot reclaim the question after it's been disavowed.
10. What is a Moderator?
GirlsAskGuys Moderators are volunteer G@Gers who help keep the site fun and safe by suggesting, to admins, what should be removed for violating posting guidelines.
Moderators can Hide Opinions and Comments.
Super Moderators can Hide Questions, Question Updates, Takes, Opinions, and Comments and correct topics.
Uber Moderators can Hide Questions, Question Updates, Takes, Opinions, and Comments and correct topics. UberMods can also temporarily freeze member accounts in cases of consistent infringement.
Admins are GirlsAskGuys staff who build and manage the site, its community, and its content.
For find out who our Mod Team is, check out our FAQ page, Who are in the current Moderator Team?
11. Post Icons
You may have noticed several icons next to posts when browsing the Feed or the Question List pages (Recent, No Opinions, etc.).
Eye = You've viewed that Question or myTake before

Checkmark = You've shared your Opinion on that Question or myTake

Person with Checkmark = You are Following that G@Ger

Pink/Blue flame= This post is Popular on the site
GirlsAskGuys is a living, breathing entity, constantly evolving and improving. Never be afraid to ask about something new that you don't understand, but always check G@G News or our FAQ as it's full of information that's updated daily.

Here's looking at another great year for G@G, full of new features and new G@Gers!
---